It's not a question of liking or disliking animals.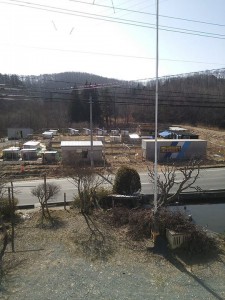 Within a year of the accident most of the animals of Itate had gone to new homes in other prefectures or had been taken in by animal shelters. However there are still 150~200 dogs, 400~800 cats, more than 50 chickens and a pig living in darkness and fear because the area has been cut off and there is no one there to care for them because their owners had no choice but to flee without them.
Many of the animals are constantly battling hunger and thirst, the extreme weather conditions and the discomfort caused by mosquitos and mites. Most cannot get away because they are on such short chains.
No one was willing to save those animals. There was no hope for their rescue as even the human victims had been neglected for years. As far as priorities go the animals were at the bottom of the list.
As Mr. Hirayama states in the film everything changes when you look at things from the animals' perspective. It no longer matters whether you like animals or not. Fukkou no Ie was built in the affected area because it is simply unforgivable that these animals should be chained and neglected.


Official Website
https://www.facebook.com/hukkounoie

---
For the reasons stated above we want your help. Every little helps!
◇Please send all donations via Sagawa Kyubin or Kuroneko Yamato. Any goods sent otherwise will not reach the affected area.
Address
Fukkou no Ie
Azaitamizawa Itatemura Somagun Fukushima 826
960-1803
Phone Number 090-8800-7259
We are on the constant look out for volunteers. We're especially in need of people who can come by car or come on weekdays. Experience the warm welcome of our dogs!
≪福島のしっぽ達☆支援し隊≫ http://shippo-support.jimdo.com/